Game:
NK Medimurje Cakovec - Nk Dinamo Zagreb
Date:
Saturday, 12 April 2008, 5:00 PM
In this game meets Madimurje who is last in table with only 12 points and Croatian champions Dinamo. This will be very interesting match because for Dinamo points isn't so important but i cant say that for Medimurje.
Medimurje is hosting champion so they will be very motivated in that match to prove that they still can maybe come back but that will be very hard... they don't have nothing to lose.
Dinamo will rest some key players so second team will be on pitch. Mario Mandžuki? is out because he is suspended while Boško Balaban have injury problems. Carlos and Sammir,have also injury problems while Luka Modri? and goalkeeper Georg Koch will be rested. You also need to know that if Dinamo win they are mathematic champions but i am not sure that they going to play with full potential especially against last team there will be hard to motivate team.
While Medimurje will not have problems with motivation they will play against best team in Croatia so i thin that they can take draw. Odds on Dinamo are very low ( 1.15 - 1.25 ) witch is too low for guest team. So my prediction for that match is DRAW with great odd 6.25.
TABLE AND FORM: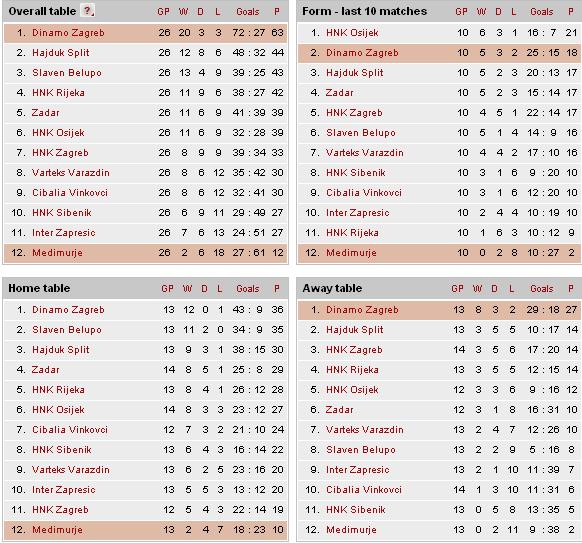 Pick:
Draw @ 6.25
bwin
Confidence:
4/10